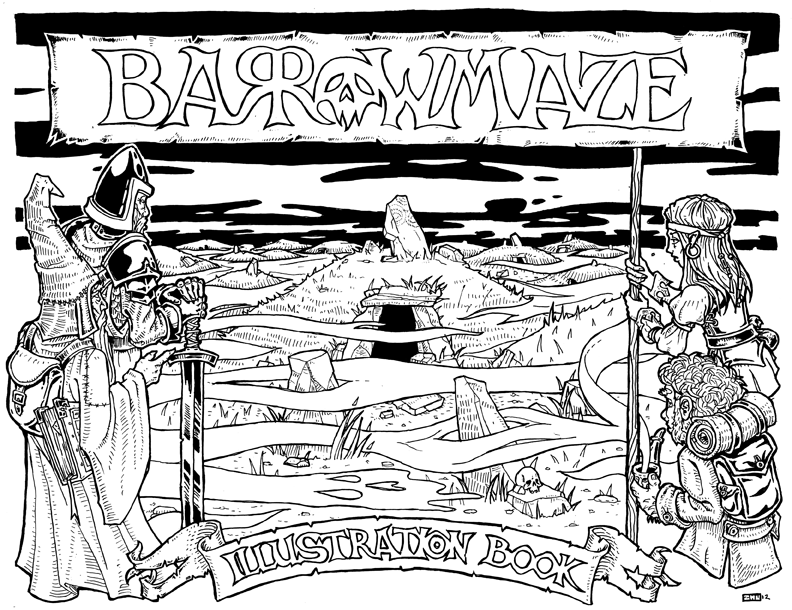 We've now had seven sessions running through Greg Gillespie's Barrowmaze module as an open table using Off-White Cube and it's always good to be analytical in the way one plays the game (within reason).
Warning: there are some spoilers below, although my players will have experienced them already so they don't need to worry.
Preparing the Barrowmaze
The module itself has been great to work from – after reading the first few pages of setting introduction and the bestiary, I have had to do very little advance prep. The many barrows which dot the 'surface layer' of the mega dungeon are all individually detailed with simple, evocative descriptions. Since most of the barrows require some effort to break into, I have enough of a grace period to quickly read the entry and conjure up a mental image ready for when the characters eventually descend into the dark.
We lost one treasure hunter and three hirelings to the barrow abomination, and a follower to the chest's needle trap.
On one occasion we had the party stumble into the megadungeon itself a few sessions earlier than I had anticipated – before I had read any of its rooms – and the GM text was simple enough to operate from without any stress on my part.
Part of my minimal prep for this online campaign has been to make things easier for my tactile sensibilities. I printed out the Barrowmaze PDF and spent an afternoon slotting the sheets into a display book.
My fondness for display books requires a blog post of its own but, suffice to say, flipping to and fro is a lot easier with one of these than with a printed book. This is the sort of prep which I like best – stuff which makes play easier, rather than planning play itself.
The lack of pressure to read the whole tome beforehand meant that, having found the first few sessions' random encounters to be a little flat, I could spend some time working d4 Caltrop's excellent selection of OSE Encounter Activities into an Inspiration Pad Pro table generator so that I can generate some more varied encounters at the click of a button.
So I'm very satisfied with the Barrowmaze as a product, and I have far fewer nerves in the run up to a session as a result.
It has even afforded me the luxury of a long afternoon spent painstakingly adding a Dynamic Lighting layer to a map of the entire dungeon on Roll20 – I'm hoping that was a worthwhile time investment…
Game Rules & Structure
Off-White Cube seems to be working rather nicely too, which is gratifying. I spent a bit of time adjusting the Barrowmaze bestiary so that I wouldn't have to convert damage dice to d6 variants or read a paragraph of detail to find a creature's special abilities, and that's about as much modifying as I've had to do in advance (and even that was a 'nice to have' – I'm pretty comfortable mentally shifting d8 to d6+1). So far it's passing my OSR compatibility requirement.
This has been my first real attempt to lock in procedure-driven play, especially with regards timekeeping. Too often in the past have I been guilty of hand waving away the encounter roll – this time I have been keeping resolutely to letting the dice decide every twenty minutes, even when three consecutive 1s mean regular peril for the party (repetitiveness now offset by the juiced up encounter tables). It makes those occasions when the treasure hunters manage to spend four hours digging up a barrow uninterrupted all the more special.
And with everything being rolled in the open, I am committed to following the decrees of the dice. Most of the PCs have managed to get away with just a few wounds, but their workplace accident rate has forced them to throw more perks at their prospective employees – necessary with inventory slots coming at a premium and treasure hunting requiring a substantial amount of digging. The temptation to fudge things is flung aside.
Each session is about two and a half to three hours in length, and the quantum mundane adventuring gear in Off-White Cube means that the party is ready to set out on their expedition before the first half hour is up, and most of that time is used up deciding what hirelings they ought to go for. This also includes everyone updating each other on the previous sessions, so at the moment I think it's a reasonable share of the gaming time.
To reinforce the open table nature of this campaign, every session is concluded by the narrative fog engulfing the Barrowmoors and forcing the party to retreat to the safety of their base of operations, the little town of Helix. A reminder is given about 30 – 45 minutes before the end of the game; this has served well to get the players planning their return so that each session stands on its own as an expedition, with a changing cast of characters narratively justifiable. Only once have we rolled for characters finding their way back in the deadly fog, and upon reflection I retconned that: several players lost their characters for no reason other than Discord dropped out before they could start making their way back. If a character is to die, I want it to be dramatic, tragic or hilarious. (And fair, I guess.)
Future Plans
It does, however, mean that there is an active discouragement to players from exploring beyond the Barrowmaze since the fog comes in at the end of the day – they wouldn't be able to travel much further than they already have without condemning themselves to a roll to survive. I'll have to have a think about how this might be alleviated – I'm not against the campaign being based purely in the Barrowmaze, but I don't want to hamper adventurous players unnecessarily.
Having come across the very lucrative barrow shown above, some players are now absolutely rolling in cash. I need to find some good, simple rules for investing in Helix and the surrounding area. I'd rather not have to operate a complex spreadsheet – I do too much of that already during the working day, and at least then I get paid to do it.
There also hasn't been much in the way of interaction with the NPCs of Helix. This is mostly due to me emphasising the treasure hunting side of D&D, and I haven't done much in the way of inhabiting the locals beyond the odd snarky comment towards the adventurers, but I don't want to wipe out the roleplaying side altogether, particularly since Barrowmaze comes supplied with a fun cast of NPCs to utilise. I hope to bring NPCs more into play with characters sinking their funds into Helix – somebody has to run the stables while the owner is accumulating more wealth after all. So says capitalism.
Concluding Thoughts
I'm really delighted with the campaign so far. I pitched it as Terry Pratchett does dungeon delving, and the players have really bought into the tone. Their tongue-in-cheek enthusiasm combined with Barrowmaze's ease of use for the GM has made for a really fun first few weeks, and with Britain now in lock down there may well be time for even more gaming.
It's proving to be an excellent tonic from 5e burnout.